AMELIA 2022: Il futuro dell'informatica forense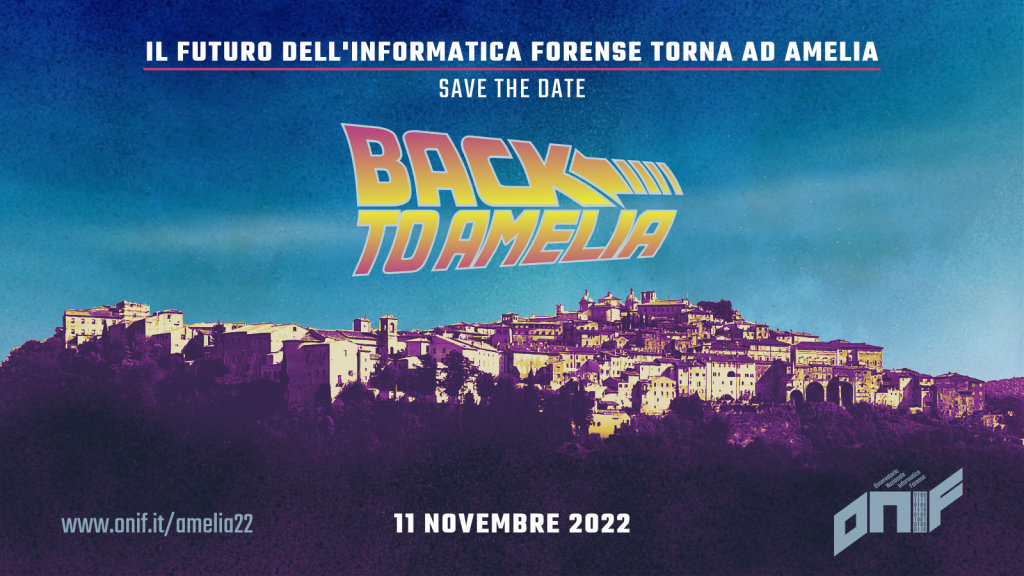 Amelia, venerdì 11 novembre 2022: dopo 3 anni si è tenuto nuovamente l'evento organizzato dall'Osservatorio Nazionale per l'Informatica Forense (ONIF) e giunto ormai alla sua sesta edizione.
Il Convegno, dal tema "Il futuro dell'informatica forense", organizzato da ONIF per la sesta edizione ad Amelia nella nella consueta e suggestiva cornice del Chiostro Boccarini (fu realizzato in forme rinascimentali nel XVI secolo) ha voltuo dare uno sguardo al futuro dell'informatica forense con un panel di nterventi di spessore curati da parte di operatori delle Forze dell'Ordine, da personalità istituzionali, giuristi e consulenti tecnici dell'Associazione ONIF.
Prof. Ing. Paolo Reale: Saluti Istituzionali
Dott. Pier Luca Toselli – Luogotenente c.s.: Sinergie, criticità e futuro, tra polizia giudiziaria, ausiliari di p.g., c.t.u e c.t.p; nelle indagini digitali.
Ing. Marco Calamari: Una pistola fumante nel processo civile telematico
Dott. Fabio Zito: Android reverse-engineering (find a trojan information in a closed source apps)
Dott. Luca Cadonici: Differenze e possibilità nell'acquisizione di dispositivi ios: il modello di sicurezza apple e le sue implicazioni forensi.
Prof. Ing. Ugo Lopez: Enterprise cloud forensics, security & compliance
Dott. Giorgio Sonego – B.U. manager per il cybercrime e digital forensic: Introduzione agli sponsor
Dott. Paolo Rossi – Account Director Government – Southern Europe: Nuix: una finestra su tutte le evidenze
Bradley Taylor – Sales Manager – Global Key Account Management: Maltego and transforming your investigations with the power of osint
Luigi Portaluri – Director – South Europe in Grayshift: Ottieni le tue prove in minuti. non ore, mesi o anni!
Tanya Pankova – Product Marketing Director at Oxygen Forensics: Overcoming device security with oxygen forensic detective
Avv. Paolo Pirani: La "digital forensics" nel processo
Avv. Guido Villa – Tecoms Srl: Mercure: l'evoluzione nell'analisi dei tabulati telefonici
Prof. Avv. Francesco Paolo Micozzi: Sequestro, perquisizione, restituzione dei dati e impugnazioni: recenti approdi giurisprudenzial
Davide Gabrini (Rebus) – Ispettore PS: La ripetibilità dell'accertamento informatico forense
Dott. Nanni Bassetti: Giustizia predittiva ed il problema del bias nell'AI
Dott. Valerio De Gioia – Giudice Penale: Il Giudice robot
Prof.ssa Avv. Stefania Stefanelli: Il nuovo corso di laurea "law and technology" dell'università degli studi di perugia